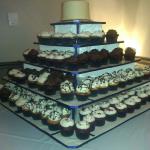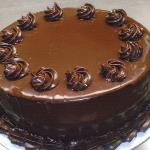 Chocolate Decadence Cake 

"Gluten Free" Flourless Semi-Sweet Chocolate cake, with poured Chocolate Ganache and decorated with Ganache Frosting.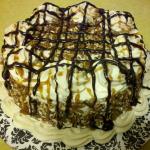 Chocolate Turtle Cake

Chocolate cake with 2 layers, one filled with Chocolate Bavarian Cream, the other is a Caramel Bavarian Cream. The frosting is a Caramel Butter-Cream topped and surrounded with pecans and drizzled with caramel and fudge.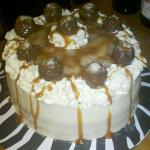 Caramel "Apple Pie" Cake

Vanilla cake with 2 torte layers.  One layer is made with homemade apple pie filling the second layer is made with caramel Bavarian cream.  The frosting is made with caramel buttercream.  On top there is another layer of apple pie filling with apple cinnamon truffles with caramel drizzled on top.

Chocolate Sundae Cake

chocolate cake with a layer of chocolate bavarian cream.  Buttercream frosting drizzled with caramel and chocolate ganache, sprinkles and marciano cherries. 

The picture at the far right is the stand we made for a birthday party.  It held our 50 cupcakes and a 10" cake at the top.  We replaced the cherries with a monster high topper for the birthday girls special day.

Peanut-Butter-Cup Cake

Chocolate cake with Peanut-Butter Bavarian cream.  The frosting is made with Peanut-Butter buttercream.  Topped with Peanut-Butter-Cups and drizzled chocolate ganache on top.   

Cheesecake

Left: Cookies "n" Cream Cheesecake

Right: Original Cheesecake

6" Wedding Topper with a 

Variety of Cupcakes

Dezarae's Desirable Desserts

3D Bakery